TODO List
TODO List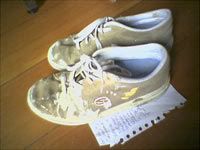 TODO list and work shoes await...
My posting frequency has been down, because I have been chewing away at a pre-move TODO list. So far, I have hung a medicine cabinet, moved a towel bar, installed base shoe, painted trim, and distributed attic insulation. The flapper valve in the main floor commode gave out, so the list grows as I chip away at it. This reinforces the idea that I would be better off in a townhouse, when I relocate.
Much of the work involves getting rid of junk that had some value to me at one point. (And might in the future!) Even if I were not moving, this process makes me feel more free.
Cracked paint in second story closet
The List
I arranged this in roughly reverse-chronological order, and will prepend new items to the top of the list.
Repair jammed-up lazy Susan corner cabinets in kitchen
Sand, stain, and varnish antique doors (upstairs - 9 total)
[75% complete]Caulk and paint all installed or repaired baseboard
Sand and re-refinish hardwood flooring where stained by potted plant
Replace flooring in mud porch (cloak room)
Remove towel bar and set bathroom linen cupboard in its place.
Hang medicine cabinet
Distribute insulation bats in attic
Install base shoe in upstairs bedroom and hallway
Scrape all baseboard trim that was disturbed when hardwood floors were refinished.
Caulk and paint stair railings and baseboard (last step in stairwell restoration)
Furnish living room with entertainment center, end tables, leather couch, and leather reclining club chair
Paint main floor: living room, kitchen, and dining room
Restore plaster in stairwell, prep, and paint
Sand, stain, and varnish antique doors (basement - 6 doors)
Reframe basement room, and install oven, cabinets, and stackable washer and dryer
Refinish oak hardwood and fir softwood floors
Remove second floor carpet