Austin "Median" Prices Did Not Add Up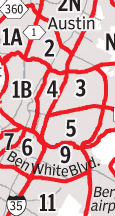 I was a bit too exuberant about the low median Austin home price. You'll recall that my plan was to sell my Seattle house, and use the proceeds to buy a home in Austin for cash. Well, the median prices I saw for Austin included a wide range of neighborhoods, and a lot of houses that were tiny or in disrepair. The plan may have worked back in May when I first visited Austin, but prices have grown by double digits in neighborhoods that I like. The Austin-American Statesman
reported on it
today. (Just look at the sidebar to see the tiny speck that "median" will buy in 78702).
My profit from the Seattle house will still buy a McMansion in Round Rock or Buda, but I am not interested in the commuting lifestyle.
Thus, I'm back to the prospect of a mortgage. The good news is that the payments will be only about 30% the Seattle ones. How do I keep other costs low? Certainly not by buying a high-rise condo. Some of the HOA fees I have seen are $500 per month! Low-rise, smaller complexes cost less (around $200), but typically include no community features, such as a pool or gym. The HOA fees for condo houses and attached homes can be as low as $50/month, but don't include mowing or maintenance.
I'm leaning toward a condo with a justified HOA fee, or a newer single family home.